5 Question Friday
(doing this a little late but what...the...hey)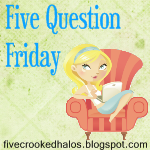 Rules for 5

QF

: Copy and paste the following questions to your blog post, answer them, then watch for the

linky

post to appear Friday morning and LINK UP!
1.
If you were free to just hop in the car and drive, where would you go? Or, if you could hop a plane and go anywhere, where?
Okay- I am going to give two answers
A. In a car, I would drive to the Cape and plant myself on the beach
B. On a plane, I would fly to Hawaii and explore all of its beauty
2.
What's your most recently read favorite book?
Cannot say The Hunger Games like so many others...would have to say Nantucket Nights (yes I am slightly obsessed with the ocean and the beach)
3.
What's your favorite Spring Break memory?
Well I really don't think I can type this in a blog...just kidding!
I guess it was senior year...while in Cancun with all of my college friends...drinking beers in the afternoon at our hotel's outdoor bar...and Kurt was making us laugh so hard that our stomachs hurt...I was more tanned and more healthy and happy than I had been in my entire life and I never wanted to lose that feeling...my how life changes!
4. W
hat do you put in your child's Easter basket? Or, for those w/o kids, what was put in your childhood basket?
For the kiddos: Cadbury items like Cream Eggs, Caramel Eggs and Mini Eggs along with their favorite fruity treats like jelly beans, Starbursts, Peeps and Twizzlers and then they always get one gift that is not candy
For me growing up: My basket was always left beside my bed by the Easter Bunny...it was always wrapped in beautiful and colorful cellophane...and then it always included one large buttercream egg, Cadbury cream eggs, Cadbury mini eggs, jelly beans, my favorite candy bar (3 Musketeers) and then an awesome gift like jewelry or a movie or something else fun)
5. Do you get a summer haircut?
Not necessarily. I only get my hair cut once/twice a year
It is the other things that happen more often- flat ironed every two weeks and highlights every 6-8 weeks (getting tired of all this- should just got back to my natural, dark, curly hair- my hubby would be pleased anyway)